Mechanical Testing
Mechanical Testing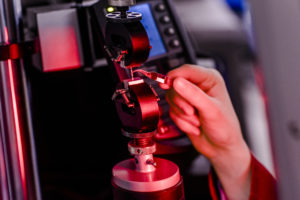 Static tests are conducted on universal testing machines. In addition, there are instruments for characterizations of impact strength and devices for studying of long-term properties at different environmental conditions.
Servo-hydraulic testing machines are applied for dynamical tests. Furthermore, loading analysis of complex specimens and structures is possible with our deformation measuring system.
For specific loading situations, testing can be adjusted by programming of loading profils and evaluation methods.
An overview of machines
Quasistatische Prüfung
Maschine/Methode
Maschinendaten
Prüfmöglichkeiten
Universalprüfmaschinen
Nennlastbereich: 10 N bis 200 kN;
Prüftemperatur : -40 bis 250 °C
Zug, Druck, Biegung;
Bauteilprüfung: rechnergestützte, frei programmierbare Versuchsdurchführung
Torsionsanlagen
Nennlastbereich: 25 Nm bis 1000 Nm
Ermittlung der: Bauteilsteifigkeit, Torsionsfestigkeit, Dauerschwingfestigkeit
Optische Deformationsmesseinrichtung
ortsaufgelöste Deformationsmessung;
2- und 3D
Verformungsmessungen an Probekörpern und Bauteilen unter Belastung
Statisches Langzeitverhalten
Maschine/Methode
Maschinendaten
Prüfmöglichkeiten
Zeitstand-Zugversuchsanlage
max. Prüfkraft 2,5 kN;
bis zu 24 Prüfplätze;
Zeitstand-Zugversuche;
"Kriechkurve"
Schlagartige Beanspruchung
| Maschine/Methode | Maschinendaten | Prüfmöglichkeiten |
| --- | --- | --- |
| Pendelschlagwerke | Prüfung nach Charpy | Schlag- bzw. Kerbschlagzähigkeit nach DIN EN ISO 179-1 |
 Zyklische Belastung/Ermüdungsverhalten/Bauteilprüfung
Maschine/Methode
Maschinendaten
Prüfmöglichkeiten
Servohydraulische Längszylinder
Nennlasten bis 100 kN;
Verfahrwege bis 200 mm
Einstufen- und Laststeigerungsversuche;
Hysteresismessung
 Härtemessung
Maschine/Methode
Maschinendaten
Prüfmöglichkeiten
Vickers, Knoop, Shore, Barcol
Vickers mit Kleinlastbereich;
Mikrohärte;
Shore A und D
Für Thermo- und Duroplaste, Kautschuke und Elastomere sowie für faserverstärkte Kunststoffe
 Thermische Eigenschaften
| Maschine/Methode | Maschinendaten | Prüfmöglichkeiten |
| --- | --- | --- |
| Wärmeformbeständigkeitsprüfstand | 5 Messstellen | in Anlehnung an ISO 75 |
 Bestimmung der umgebungsbedingten Spannungsrissbildung
| Maschine/Methode | Maschinendaten | Prüfmöglichkeiten |
| --- | --- | --- |
| Stifteindrückverfahren Biegestreifenverfahren | Prüfstifte und Biegeschablonen in normgemäßer Belastungsstufung | Bestimmung der umgebungsbedingten Spannungsrissbildung (ESC) an Probekörpern und Bauteilen |
 Zerstörungsfreie Kunststoff- und Bauteilprüfung
Maschine/Methode
Maschinendaten
Prüfmöglichkeiten
Ultraschall-Tauchtechnikprüfplatz
Probekörpergeometrie: 500 x 500 mm²
rechnergestützter Prüfplatz;
C-Bild-Messung und D-Bild-Messung
CNC-Koordinaten Messmaschine
Messbereich: 400 x 250 x 200 mm³
Tast- und Videosystem
---
Contact Person