Tim Osswald, 30th anniversary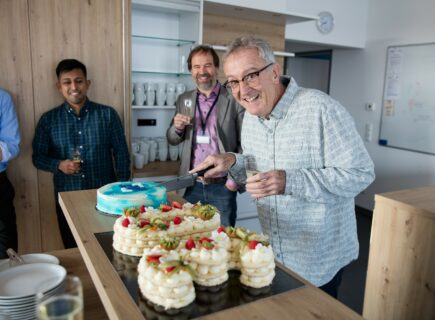 Celebrating 30 Years of Teaching Excellence at the Institute of Polymer Technology (LKT): Prof. Prof. hon. Dr. Tim A. Osswald
We are delighted to honor Prof. Prof. hon. Dr. Tim A. Osswald of the University of Wisconsin-Madison, USA, on the occasion of his 30th teaching anniversary at the Institute of Polymer Technology (LKT). Prof. Osswald, a distinguished figure in the field of Polymer Technology, has made significant contributions to both science and teaching throughout his illustrious career.
Since 1993, when Prof. Osswald delivered his first lecture in Erlangen, our institute has been fortunate to benefit from his expertise and unwavering dedication. Over the past three decades, his remarkable insights and innovative approach have left an indelible mark on our institution and its students. One of the highlights of Prof. Osswald's contributions has been his block lecture on the topic of "Simulation in Additive Manufacturing with Polymers," which he conducts with great enthusiasm every semester.
In addition to his exceptional teaching skills, Prof. Osswald has fostered a vibrant exchange between the University of Wisconsin-Madison and the Institute of Polymer Technology (LKT) in Erlangen. This collaboration has not only enhanced the educational experience of our students, but has also facilitated groundbreaking research efforts. The exchange of ideas and expertise has truly been instrumental in advancing the field of Polymer Technology and establishing enduring academic relationship.
We eagerly anticipate our Institute's continued collaboration with Prof. Osswald and look forward to witnessing the positive impact he will undoubtedly continue to make in the years to come.