VDI Jahrestagung Spritzgießen 2023 in Wiesbaden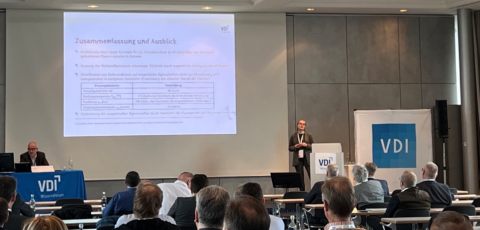 VDI Jahrestagung Spritzgießen 2023 in Wiesbaden
Uta Rösel, from our Institute of Polymer Technology LKT, recently presented her research on "Application of injection molding within the drive technology" at the VDI-Fachtagung Spritzgießen 2023, in Wiesbaden.
Her work focuses on the use of polymer-bonded permanent magnets, which offer new possibilities in magnet applications and eliminate the need for rare earth as a limited resource. By integrating these magnets using a flux barrier geometry, Uta Rösel demonstrated how synchronous machines can be realized. During her presentation, Uta discussed the implementation of this concept in a synchronous reluctance motor, highlighting the tool design for integrating permanent magnets and the unique influencing factors on magnetic properties in complex geometries. Her findings differ from existing literature on simpler geometries.
This innovative approach leads to miniaturized drive units, reduced material usage, and increased energy efficiency. Her research is a significant step forward in drive technology, opening up new application possibilities while promoting sustainability.
Congratulations to Uta Rösel for her work!